Have you ever tried BBQ beer can chicken??  The chicken meat becomes so succulent, juicy and tender as it steams from the inside and still crisps from the outside… add some wood chips to the mix, and you have that insane smoky flavour too… BBQ PERFECTION!   

Follow my easy method with just a handful of ingredients for the dry rub, and you will ALWAYS want to make chicken on the BBQ this way… plus, it doesn't take up much space on the grills, so you got plenty of room for all those sides. 

These cabbage wedges were INCREDIBLE… pieced onto skewers and slathered in wild garlic butter, then grilled till almost crispy and beautifully charred.  We served it all up with a simple tomato Panzanella salad, corn on the cob and pesto pasta.

You can also make Beer Can Chicken in your oven, and it will turn out just as moist and juicy but without the smokey flavour.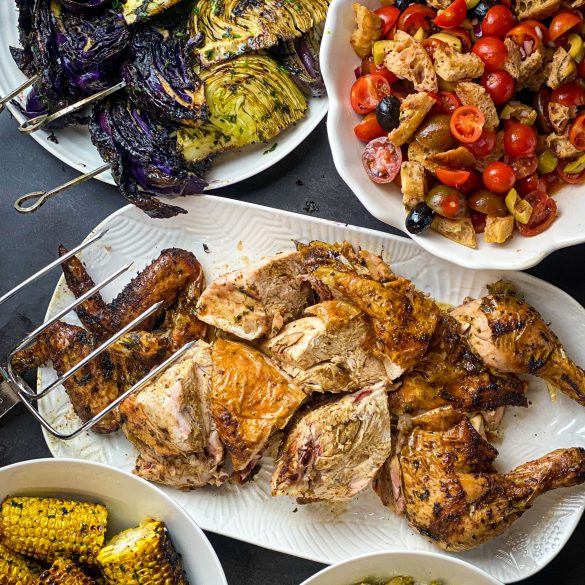 Ingredients
1 Whole Chicken about 2.5 kg, washed, giblets and excess fat removed
1 425ml can of beer at room temperature, half full
Wood chips for smoking (I used hickory)
RUB
2 tsp Onion granules
2 tsp garlic granules
1 tsp Chipotle Seasoning
1 tsp Chilli Powder
1 tsp Sea Salt
½ tsp Black Pepper
INGREDIENTS WILD GARLIC CABBAGE
½ Red Cabbage
½ Green Cabbage
50g Wild Garlic chopped
250g Butter softened
¾ tsp Sea Salt
Instructions
Set your BBQ to indirect cooking, medium heat, about 200C
In a small bowl, mix the rub ingredients
Dry the chicken well inside and out with kitchen paper, season all over with the rub and fold the wingtips back behind the chicken back
Let the chicken come to room temperature, about 30 minutes
Pierce, the top of the beer, can a few times with something sharp to allow for more steam
Slowly place the chicken over the beer can, balancing like a tripod on 2 legs and the can. Alternatively, if you have a 'beer can chicken stand', you can use this!
Add the wood chips to the coal to start smoking. Once smoking, place the chicken with the can onto the BBQ and cook for about 1.5 hours or until the internal temperature reaches 78C and the juices run clear.
Very carefully remove the chicken and can from the BBQ, rest for 15 minutes before lifting it from the can.
Cut the chicken into pieces and serve immediately with your favourite sides
Enjoy!
METHOD WILD GARLIC CABBAGE
Mix the butter in a bowl with the sea salt and stir in the chopped wild garlic
Cut both the cabbages into wedges and pierce them onto skewers like the picture shows. 
Brush liberally with wild garlic butter and BBQ on hot grills until charred
Did You Make This Recipe?

Would love to hear your feedback! If you make this recipe, please tag me on Instagram

@zarskitchen

.