Are you a fish pie lover? If not, this one will undoubtedly change your mind.. I've perfected it, and it's exactly as I named it… 💥NEXT LEVEL!!!💥 .

Yes ok. It's a pretty long list of ingredients. I know. But believe me, it really is worth the effort. You could skip the fennel and spinach, which cuts down the steps, and if you don't have muslin for the bouquet garnish, add whatever spices and herbs to the milk and remove after poaching the fish.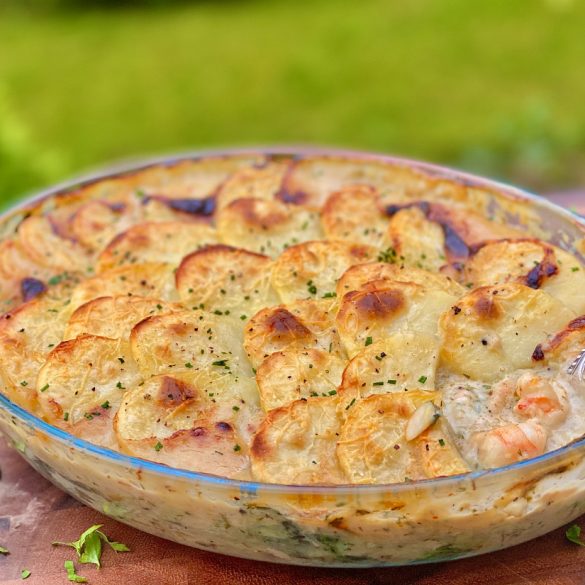 Ingredients
Bouquet garnish: bay leaves, star anise, black peppercorns, thyme (wrapped in muslin)
3 large potatoes, sliced into 1/2cm thin rounds
150g cod, pieces
150g smoked haddock
150g salmon
200g raw peeled prawns
1.2l milk
60g flour
150ml white wine
200ml creme fraiche
2 baby leeks or 1 large
2 shallots
60g butter
4 cloves garlic crushed
100g spinach
1 tbsp olive oil
1/2 fennel sliced thin (optional)
1/2 lemon juice and finely chopped zest
3 tbsp parsley chopped
2 tbsp dill chopped fine
1 tsp Dijon mustard
3 tbs cheddar cheese finely grated
Salt, pepper, and chilli flakes
Instructions
1. Blanch potatoes 3 mins in boiling water, rinse under cold, leave to dry
2. Sauté leeks, shallots, garlic in 1 tbsp butter on low heat until soft
3. Dice fish into bite-size pieces
4. Lay the fennel in the tray, drizzle olive oil, salt, and pepper. Roast 200°C till slightly charred and soft, cut up into bite-size pieces
5. Wilt spinach in a pan with olive oil, squeeze out water, set aside
6. Boil milk with bouquet garnish, add fish, turn down to simmer, poach fish 3 mins, remove fish, set aside
7. In a large pan, melt butter, stir in flour till a paste, cook 2 mins, add wine, whisk
8. Gradually add flavoured milk, whisk until no lumps
9. Add creme fraiche, simmer till a thick sauce, add leek, fennel, and garlic mixture
10. Add parsley, dill, lemon juice, lemon zest, mustard, salt, pepper, and chilli flakes to taste
11. Gently fold in fish, trying not to break the pieces
12. Pour mix into baking dish
13. Brush potatoes with butter, layer on top of pie mix
14. Sprinkle sea salt and black pepper, top with cheese
15. Bake in the oven at 200°C for 20-25 mins until golden and bubbling

Did You Make This Recipe?

Would love to hear your feedback! If you make this recipe, please tag me on Instagram

@zarskitchen

.