A magical combo of textures and flavours, mangos and prawns are a match made in heaven!
Love a no-cook pretty party plate like this, a fab addition to your holiday table which can be made into one large salad or individual dinner party portions. If you want less faff then use pretty martini glasses to serve instead, this one is sure to wow your guests no matter how you present it!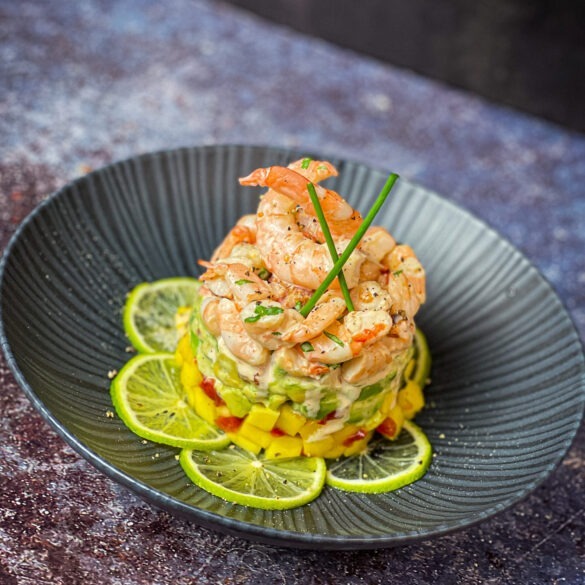 Ingredients
2 mangoes, diced small
2 avocados, diced small
300g cooked prawns, shelled, chopped into 1cm pieces
2 tbsp fresh coriander, chopped fine
1 tbsp jalapeños, chopped fine
1 tbsp lime juice
GARNISH: 8 whole cooked shelled prawns, chives, 1 lime cut into thin round slices
.
COCKTAIL SAUCE
4 tbsp mayonnaise
0.5 tbsp ketchup
1 tsp Worcestershire sauce
1 tsp lime juice
1 tsp sherry
Tabasco to taste
Sea salt and black pepper
Instructions
1. Whisk all ingredients for the cocktail sauce in a bowl, check for seasoning, adjust according to your taste, set aside
2. Set in front of you the 4 bowls; one for the chopped prawns, one for the diced avocado, one for the diced mango and one with the cocktail sauce
3. Prawn bowl: add 1/2 the cocktail sauce, 1/2 the coriander and 1/3 jalapeños
4. Avocado bowl: add remaining cocktail sauce and coriander and 1/3 jalapeños
5. Mango bowl: add the remaining jalapeños and lime juice
6. To assemble: Set out 4 plates, add the thin lime slices to the plate in a circle pattern
7. Grease a cooking ring with olive oil, place it on one of the plates, layer 1/4 the mango mix, then 1/4 of the avocado mix, then 1/4 of the prawn mixture gently pressing each one down with a spoon
8. Lift the cooking ring carefully, garnish with whole prawns and chives, repeat with the remaining plates
9. Enjoy!

Did You Make This Recipe?

Would love to hear your feedback! If you make this recipe, please tag me on Instagram

@zarskitchen

.