I cannot tell you how bloody easy these are to make and how flippin' delicious they turn out.  The BBQ gives them the most amazing char, but I've made these on a grill pan and in the oven, and they are still incredible!!.  Trust me.  Try this one; it's beyond easy. These will blow your socks off… I promise.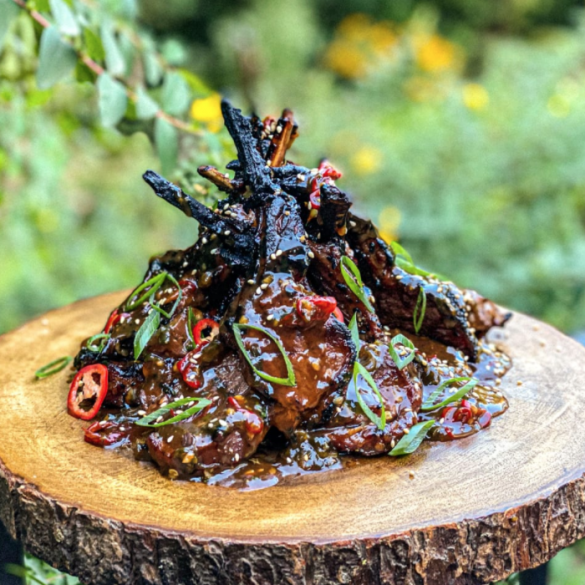 Ingredients
16 Lamb cutlets
125ml Soya sauce light
250ml Mirin
1 tbsp Ginger minced
6 Garlic cloves crushed
1 tbsp Brown sugar
1 tbsp Black pepper coarsely ground
1 tbsp Plain flour
1 Large red chilli
3 Spring Onions
Garnish with spring onions and red chillis
Instructions
In a bowl, combine soya sauce, mirin, spring onion, ginger, garlic, brown sugar, pepper, flour, and .chili
Add lamb cutlets and mix well. Marinate for at least 2 hours or preferably overnight.
Heat a BBQ grill or the grill in your oven until hot
Chargrill the drained lamb chops occasionally basting with the marinade, reserve remaining marinade
Cook lamb cutlets to your liking. I like them charred on the outside but still soft and tender on the inside
Heat reserved marinade in a small saucepan until bubbling, serve on the side with the lamb chops and some steaming hot Thai rice
Did You Make This Recipe?

Would love to hear your feedback! If you make this recipe, please tag me on Instagram

@zarskitchen

.