A gorgeous veggie option for #MeatFreeMonday… soooo cheesy and comforting with a rich tomato sauce, your fav meat-free sausages, sweetcorn, black beans and plenty of cheese… all sandwiched between layers of flour tortillas!
The tortillas are used instead of lasagne sheets and wonderfully soak up all the deliciousness… you will be hooked once you try doing this. The variations to the recipe are just endless… use meat sausages or chorizo if you don't want it veggie or swap out the kidney beans for black beans instead… I promise this is a recipe that's guaranteed to become a family favourite!
I've always been obsessed with Chipotle chillis in adobe sauce but they haven't been readily available in supermarkets in the UK until recently. Usually I buy the tinned La Costena Chipotles in Adobo sauce @lacostenauk available on Amazon but now Ancho Chillis in Adobe are available from @ocadouk and @marksandspencerfoodpr.
@richmond_foods – Meat free sausages
@oddpodsfoods – Kidney beans, cooked
@oldelpasouk – Flour Tortillas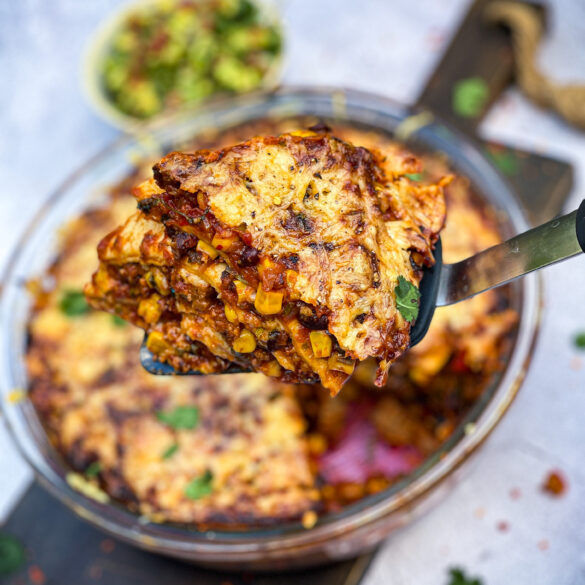 Ingredients
8 Veggie Sausages, cooked and sliced into 1cm rounds
1 tbsp Oil
2 Bay leaves
1 Red onion, chopped fine
6 Garlic cloves, crushed
1 tsp Sweet smoked paprika
4 Chipotle Chilli peppers in Adobe sauce chopped fine
2 tsp Cumin
0.5 tsp Cayenne pepper
1 tsp Dried oregano 
1 Red pepper, diced small
2 Tins crushed tomatoes (I used San Marzano)
1 tbsp Tomato paste
400g Kidney beans, cooked
400g Sweet corn
2 tsp Apple cider vinegar
1 tbsp Maple syrup
0.5 Lime, juiced
50g Coriander with stalks, chopped
Sea salt flakes and black pepper
8 Soft flour tortillas
250g Cheddar cheese, gated
ACCOMPANIMENTS: Guacamole, Sour cream
.
You will need a round ovenproof dish, approx. 26cm diameter x 6cm deep
Instructions
Preheat the oven to 180°C Fan

2.    In a large heavy based saucepan on medium heat add the olive oil and then the bay leaves, red onion and garlic, cook until the vegetables are tender and the onion is translucent

3.    Add the paprika, chilli peppers, cumin, cayenne pepper and oregano, cook for about a minute

4.    Add in the red pepper, crushed tomatoes, tomato paste and kidney beans, stir well and allow to simmer on a low heat for 30 minutes

5.    Add the cut cooked sausage and simmer for a further 5 minutes

6.    Add the sweet corn, apple cider vinegar, maple syrup, lime juice and fresh coriander, stir and heat through well

7.    Season with sea salt and black pepper to taste

8.    Assemble by spooning about a ladle full of the mixture in the bottom of the dish, then layer on 2 tortillas so they cover the sauce and overlap slightly

9.    Add a quarter of the mixture on top followed by a quarter of the cheese

10. Repeat this process finishing with the cheese on top

11. Bake in the oven for 30 minutes then let it rest for 15 minutes before slicing up like a pizza and serving

12. Enjoy hot with guacamole and sour cream!

Did You Make This Recipe?

Would love to hear your feedback! If you make this recipe, please tag me on Instagram

@zarskitchen

.