As promised, peeps.. scrumptious smoky pork enchiladas using the leftovers from yesterday's cook! These enchiladas are a favourite in our house. They can be made in about 15 mins and are exceptional considering they are made with leftovers.

Wanna make enchiladas but don't have the pork from yesterday? Not a problem. Use any cooked shredded meat, add more spice to the enchilada sauce as detailed below.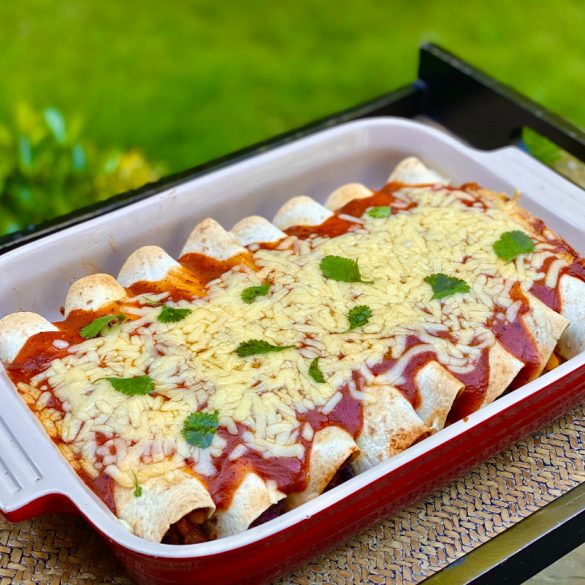 Ingredients
2 cups leftover cooked and Mexican seasoned pork meat (yesterday's post) or any shredded cooked meat
1 tbsp olive oil
400g black beans
400g sweet corn
2 cups shredded cheese
8 tortillas
ENCHILADA SAUCE
1/4 cup vegetable oil
1/4 cup flour
700g tomato passata
1.5 cups chicken stock
1 tbsp dried oregano
2 tsp cumin
2 tsp paprika
1 tsp garlic powder
1 tsp onion powder
1 tbsp brown sugar
1 tsp cayenne pepper (adjust according to taste)
Salt and pepper to taste
ADDITIONAL SPICE IF NOT USING LEFTOVER PORK (add to enchilada sauce)
1 tsp salt
black pepper
1 tsp cumin
1/2 tsp paprika
1/2 tsp onion powder
1/2 tsp garlic powder
Instructions
1. Pre-heat oven to 180°C
2. Make enchilada sauce: heat oil in a pan on med heat, add flour, and whisk for 1 min
3. Add remaining ingredients except for salt and pepper, whisk, boil and then reduce to simmer for 10 mins until thickened, whisking occasionally, taste and season
4. Heat olive oil in a pan on med heat, add pork, cook without turning 1.5 mins, so it gets crispy at the bottom, remove and set aside
5. In a bowl, add corn, black beans, 1/2 cup enchilada sauce, 1/2 cup cheese, mix
6. Spread 1/2 cup enchilada sauce on the bottom of the baking dish
7. Roll 8 tortillas with equal amounts of filling and top with remaining sauce
8. Bake 10 mins, remove, add remaining cheese
9. Bake 10-15 mins, remove and let stand 5 mins

Thanks, @recipe_tin, for the inspo for these amazing enchiladas!

Did You Make This Recipe?

Would love to hear your feedback! If you make this recipe, please tag me on Instagram

@zarskitchen

.