Another utterly delicious one for my vegan fam out there… I love aubergines and am always trying different flavour combos… This one worked so beautifully… sweet and tangy tamarind goes perfectly with aubergine and then paired with rich, creamy butter beans… a match made in my mind but may as well have been made in heaven because it was just mind-blowingly delish!

We ate it kind of heavy dip style slathered on baguette toasts, but I would've happily devoured it with rice or in a wrap.  Such perfect make-ahead party food too…  fab as an appetiser either with tortilla chips or baguette slices… seriously so addictive!!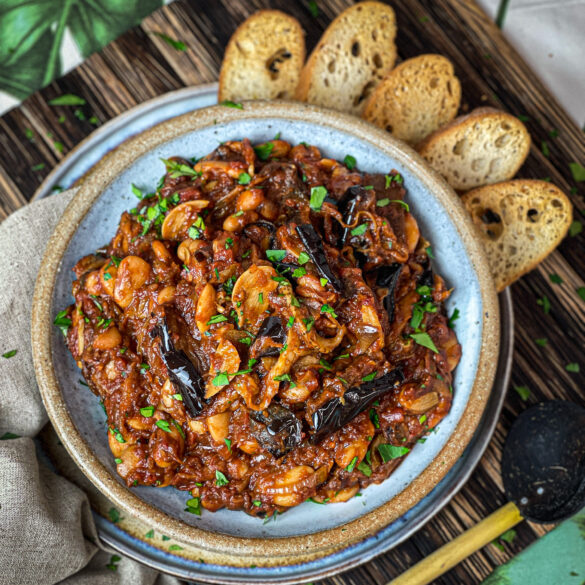 Ingredients
Oil for frying
1 Large Onion halved and thinly sliced into half-moons
Six garlic cloves peeled and cut into slivers
1/4 tsp cinnamon ground
2 tbsp Thick unsweetened Tamarind paste
Two tins Crushed tomatoes
2 tbsp Clear Honey
2 tbsp Maple Syrup
1 tbsp Balsamic Vinegar
1 tsp crushed red chilli flakes
2 Aubergines, halved, stem removed and slice each piece into four wedges
2 x 400g tins Butterbeans
Sea salt and black pepper
Garnish: Parsley
Instructions
Pour enough oil into a saucepan to deep fry the aubergines and heat on high heat. Add the aubergine wedges and deep fry for about 15 minutes, turning occasionally.
When browned and thoroughly cooked, remove the aubergine with a slotted spoon and set it aside to drain on kitchen paper.
Add a little oil on medium heat in another saucepan and add the sliced onions. Cook until starting to brown slightly, about 10 minutes.
Add the garlic cloves and cinnamon to the saucepan and cook for a couple of minutes.
Stir in the crushed tomatoes, the tamarind, honey, maple syrup, balsamic vinegar and crushed red chilli flakes, season well with salt and pepper
Reduce the heat and simmer for 10 minutes, then add the aubergine wedges and butterbeans to the sauce and carefully stir
Thoroughly heat through, sprinkle with chopped parsley and serve hot with crisp toasts.
Did You Make This Recipe?

Would love to hear your feedback! If you make this recipe, please tag me on Instagram

@zarskitchen

.