This unbelievably delicious homemade lasagna needs to be on your weekend agenda! Grilled eggplant & courgette, creamy ricotta & spinach, layers of lasagna sheets with a rich garlicky tomato sauce.. what's not to love?

I used ricotta cheese instead of making a béchamel which makes it super easy and quick. Bonus is using the no-boil lasagna sheets, the best!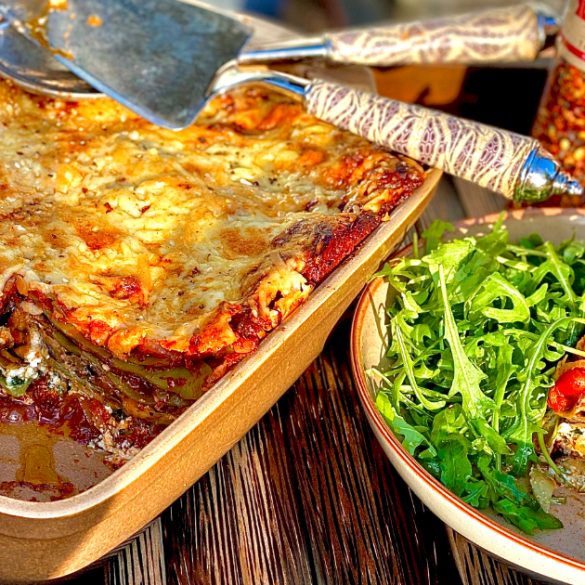 Instructions
1. Pre-heat the oven to 180°C
2. Slice eggplants and courgettes lengthways thinly, brush with olive oil, char grill, or roast in the oven until tender
3. To make the marinara sauce, sauté onions and garlic over med-high heat in a little olive oil, add tinned tomatoes, tomato purée, Italian seasoning, salt, and sugar. Bring to a boil, reduce heat and simmer for 20 minutes, then stir in basil
4. Sauté spinach in olive oil and once slightly wilted, mix into the ricotta with a pinch of salt, pepper, and chilli flakes
5. Spread 1/4 of the marinara in the dish, top with a layer of eggplant & courgette. Spread 1/3 ricotta mixture on top, then add the first layer of lasagna sheets. Repeat this 3 times and finally add the last layer of marinara sauce.
6. Top with grated mozzarella & black pepper
7. Cover with foil, bake 30 mins at 180°C. Remove foil, cook for a further 10 minutes until top is browned and bubbling
8. Leave to rest for 10 minutes before serving

Did You Make This Recipe?

Would love to hear your feedback! If you make this recipe, please tag me on Instagram

@zarskitchen

.