These gorgeous beef ribs take 15 minutes of prep only and believe me, everyone will go crazy for them… sooooo wonderfully easy to make too!
The sauce is insanely delish paired with steaming hot jasmine rice.. leftovers the next day taste even better too!
If you have never made beef ribs in the oven this way, prepare for your mind to be blown with this easy method for moist, literally falling of the bone, ridiculously tender ribs.
Really hope you guys try these, you'll be cooking them over and over again, I promise!!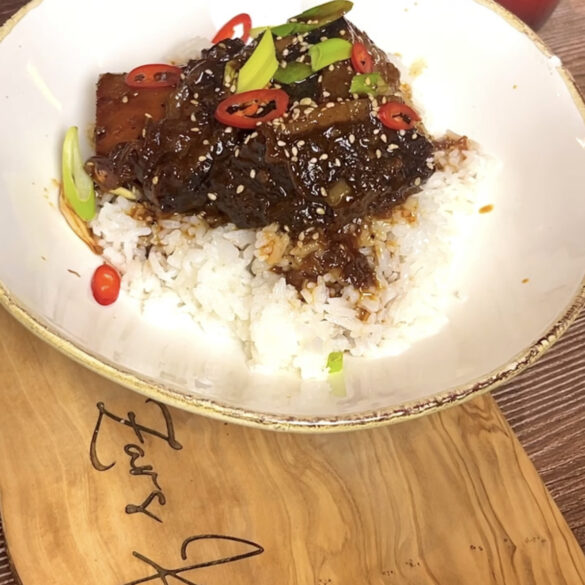 Ingredients
8 beef ribs (I used 2 x Jacobs ladder ribs from Swaledale Butchers)
GARNISH: Spring onions cut on a diagnol, toasted sesame seeds, sliced red chillis
.
SAUCE
6 tbsp Gochujang paste
12 Garlic cloves, crushed
250ml Soya sauce, light
500ml Mirin
2 tbsp Brown sugar
1 tbsp Black pepper
1 tbsp Plain flour
2 tbsp Sesame oil
250ml Water
2 Onions, sliced thin
Instructions
Pre heat oven to 150C
Combine all sauce ingredients in a large bowl and whisk until thoroughly combined
Place beef ribs in a large oven dish, meat side up
Pour the sauce into the dish submerging the ribs, if they are not covered with the sauce just spoon over some of the sauce
Cover tightly with foil and place in the oven for 3 hours
After 3 hours remove the foil and skim any excess fat/oil off the top of the sauce with a spoon
Turn the ribs in the sauce, place back into the oven without the foil for another 1 hour turning half way through, skim any excess oil again and discard
Garnish with spring onions, toasted sesame seeds and sliced red chillis
Serve with steaming hot jasmine rice
Enjoy!
Did You Make This Recipe?

Would love to hear your feedback! If you make this recipe, please tag me on Instagram

@zarskitchen

.